Only -66 days until National Soapmaking Day!
National Soapmaking Day
Last Sunday in September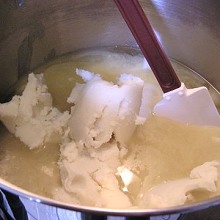 Fats being melted to make soap.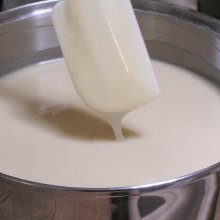 Cold process soap batter in a soap pot.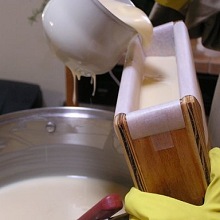 Cold process soapmaking.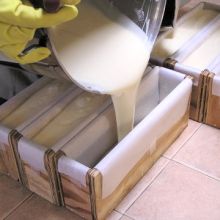 Pouring cold process soap into molds.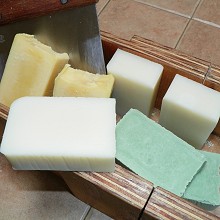 Fresh soap, sliced and ready for use.
About National Soapmaking Day
The last Sunday in September is National Soapmaking Day! Unleash your inner chemist on National Soapmaking Day!
National Soapmaking Day gives people an opportunity to come together and experience the joy of soapmaking. Anytime people gather enthusiastically to work on a project together, it is magical! National Soapmaking Day encourages the production of handmade soap, which is biodegradable and free of detergents, so it is a green activity that is good for the planet. Additionally, National Soapmaking Day may encourage people to learn a new craft, create a commodity by hand, and possibly sell it to become self-sufficient or increase income.
History of National Soapmaking Day
First celebrated at the Soapmaking Studio in 2017, National Soapmaking Day was registered by Kerri Mixon, the Master Soapmaker at Pallas Athene Soap, who is a 16th generation soapmaker and soapmaking instructor. Her favorite time of year to make soap is just after the Autumnal Equinox, at the first signs of cooler weather approaching. An enthusiastic quote from an interview with Kerri Mixon follows.
Over the last 12 years, I've taught more than 5,000 people across the US to make soap. Anyone can make soap. When people learn to make soap, they usually keep making soap—it is an enduring hobby. It would be a fantastic event for people to all make soap or learn to make soap on the same day each year. Thousands of people around the world make soap. Hundreds of specialty distributors are dedicated to selling specialty soapmaking supplies. We all deserve the opportunity and personal enrichment that comes from participating in National Soapmaking Day.
Read the interview and article, Celebrating National Soapmaking Day with Kerri Mixon! by Sara Wagner, in Cut to the Trace magazine blog of the Handcrafted Soap & Cosmetic Guild.
View or print Kerri Mixon's official Proclamation for National Soapmaking Day in PDF.
Fill-in and sign your own official Fillable Proclamation for National Soapmaking Day to print, frame, and display in your soap shop or craft area. To be fillable, the PDF form must be opened with Adobe Acrobat, Google Chrome, Microsoft Edge, Internet Explorer, or Mozilla Firefox.
Featured Soapmaker 2022
Because her soapmaking enthusiasm is unwaivering, Danielle Carlson was the featured soapmaker for National Soapmaking Day 2022.
National Soapmaking Day 2021
In 2021, National Soapmaking Day was recognized and celebrated by unpredicted worldwide participation. The day was originally intended to be a national day for celebrating soapmaking and for learning soapmaking history and education across the United States. However, on September 26, 2021, thousands of photos were posted on Instagram with #NationalSoapmakingDay that indicated participation across the globe, including the United States, Australia, the Bahamas, Canada, the Czech Republic, Ecuador, England, France, Germany, India, Israel, Moldova, the Netherlands, Nigeria, Puerto Rico, Romania, Saint Martin (Sint Maarten), Singapore, Trinidad and Tobago, Turkey, Vietnam, and more. If additional countries (other than the United States) officially recognize the last Sunday in September as "Soapmaking Day," it can progress to become Global Soapmaking Day.
Anyone who participated in National Soapmaking Day may take a screenshot or print a certificate of participation, add the name of the participant, and frame/post/share the completed certificate.


JPG Certificate of Participation 2021
PDF Certificate of Participation 2021
Fillable PDF Certificate of Participation 2021
National Soapmaking Day 2020
In 2020, despite the gloom of the coronavirus pandemic, National Soapmaking Day was recognized by more people than ever before. Instagram users, who were not soapmakers and had no soapmaking-related posts, expressed new interest in learning about soapmaking. Google searches for "National Soapmaking Day" during September 2020 rose to 100 times higher than previous months. Several calendar services officially recognized and added National Soapmaking Day to their calendars.
How to Celebrate National Soapmaking Day
Spend the Sunday creating your own handmade soap to celebrate National Soapmaking Day. One way to make soap is from scratch by using sodium hydroxide and melted fats or oils. Another simpler method is to purchase a pre-made "melt and pour" soap base. Whether you're making soap to share for Christmas, to sell at an autumn craft fair, or to use on Global Handwashing Day (October 15th), this is the perfect day to learn a new hobby and honor the early pioneers who regularly made their own soap. National Soapmaking Day is a day to celebrate soapmaking, share soapmaking with the world, and appreciate the people who participate in soapmaking.
Printable Games for National Soapmaking Day

Activities for Newbies Celebrating National Soapmaking Day

Learn how soap was made historically.
Learn how modern soap is made.
Make melt and pour soap.
Make re-batched soap from existing bars.
Make cold process soap.
Teach a soapmaking class.
Have a soapmaking party.
Participate in the Pantone Soapmaking Challenge on Instagram.
Use #NationalSoapmakingDay in social media.

Challenges for More Experienced Soapmakers on National Soapmaking Day

Push yourself to create a first-ever soap by using new colors or advanced decorative techniques.
Volunteer to host a soapmaking demonstration for a group of your friends.
Invite a soapmaking friend to a fun soap-off challenge to see who can make a better soap or more soap.
Make a batch of soap to donate to a non-profit organization in need of soap, such as Soap Donation Center.
Use #NationalSoapmakingDay in social media.

More activities, suggestions, and soapmaking instructions are available from @NationalSoapmakingDay on Instagram.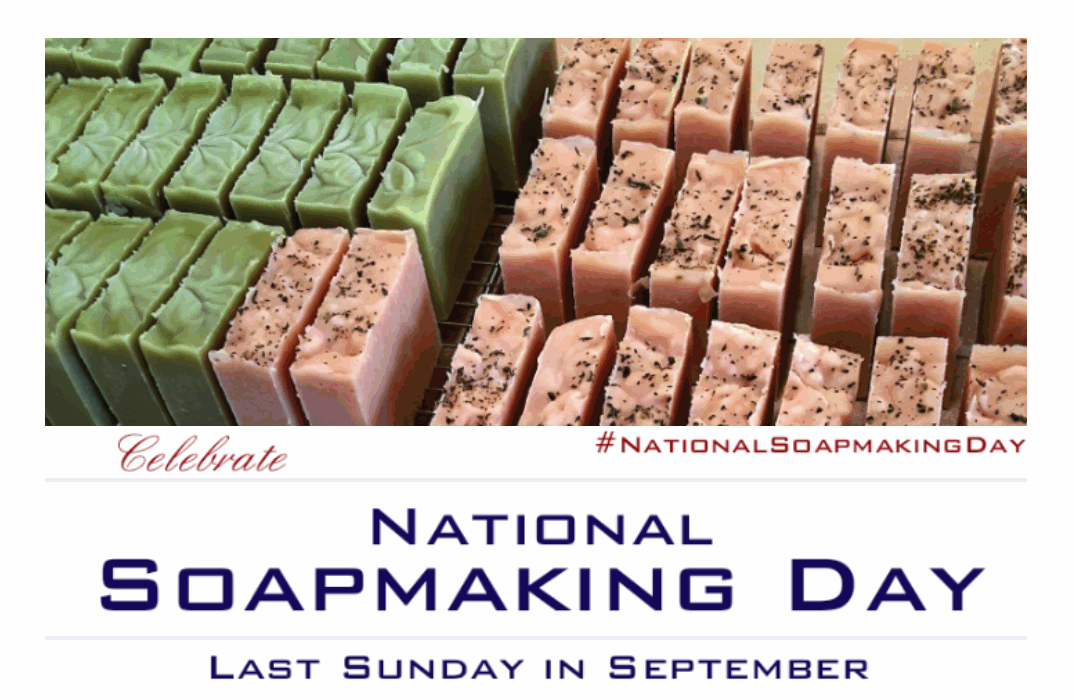 Special Events to Celebrate National Soapmaking Day
The Handcrafted Soap & Cosmetic Guild will release a special commemorative blog post on Cut to the Trace.
The Soapmaking Studio in San Diego, California, always celebrates National Soapmaking Day by offering a beginning level soapmaking class. On Sunday, September, 24, 2023, the Soapmaking Studio will host the Soapmaking 101, Beginning Cold Process Soapmaking, class to help others experience the joy of making soap. Students attend in person or online.
To submit a National Soapmaking Day event, please call David at (619) 668-1435 in the Pacific time zone. Qualified events must involve soapmaking and must take place the last week of September. Event submission is free.
---
Important Dates for Soapmakers
View or synch a device to the Soapmaking Studio Google Calendar to receive notifications on classes, events, and seasonal tips for soapmakers.
---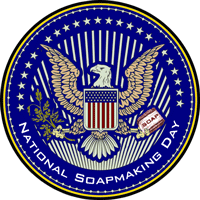 Mon, Wed, Fri, Sun: 10 am–5 pm. Sat: 9 am–4 pm. Tue, Thu: Closed. Holidays: Closed.
National Soapmaking Day, 7301 Mount Vernon St Rm 2, Lemon Grove, CA 91945, USA
+1 (619) 668-1435 • info@SoapmakingStudio.com
Copyright © 2019-2023 National Soapmaking Day. All rights reserved.
National Soapmaking Day is a public service from Acute Soap Enterprises, LLC.